After this long and exceptionally hot summer, everyone is looking forward to the next phase for Texas outdoorsmen. It all starts with the opening of white- wing and regular dove seasons and goes through fall fishing, deer hunting and duck hunting too. It's a lot
of work to get ready, lots of gear, blinds, feeders, decoys, guns and ammo! This time of the year is the holy grail for most outdoorsmen!
For me, personally, it's one of my favorite seasons. I get to spend a lot of time with my best friend, my black lab, Cinder. She's been my hunting partner for the past 5 seasons, and she takes dove and duck hunting very seriously! After months of swimming in the pool and laying on the couch, she gets to re-envision her real purpose in life which is retrieving your birds and bringing them back! She loves her job so much, she's good at it and it's fun to watch her work.
Dove hunting is generational and traditional. Shotguns passed down from great-grandfathers, grandfathers and dads are lovingly pulled out of their sheaths to be shot for another season. Opening weekend is a sacred time for young and old members of the family to sit together and not only shoot dove but remember all of the opening days spent together and tell stories about past seasons.
Some folks at this time of the year focus on just one thing though, deer hunting. But the lure of fall fishing is just too much for me!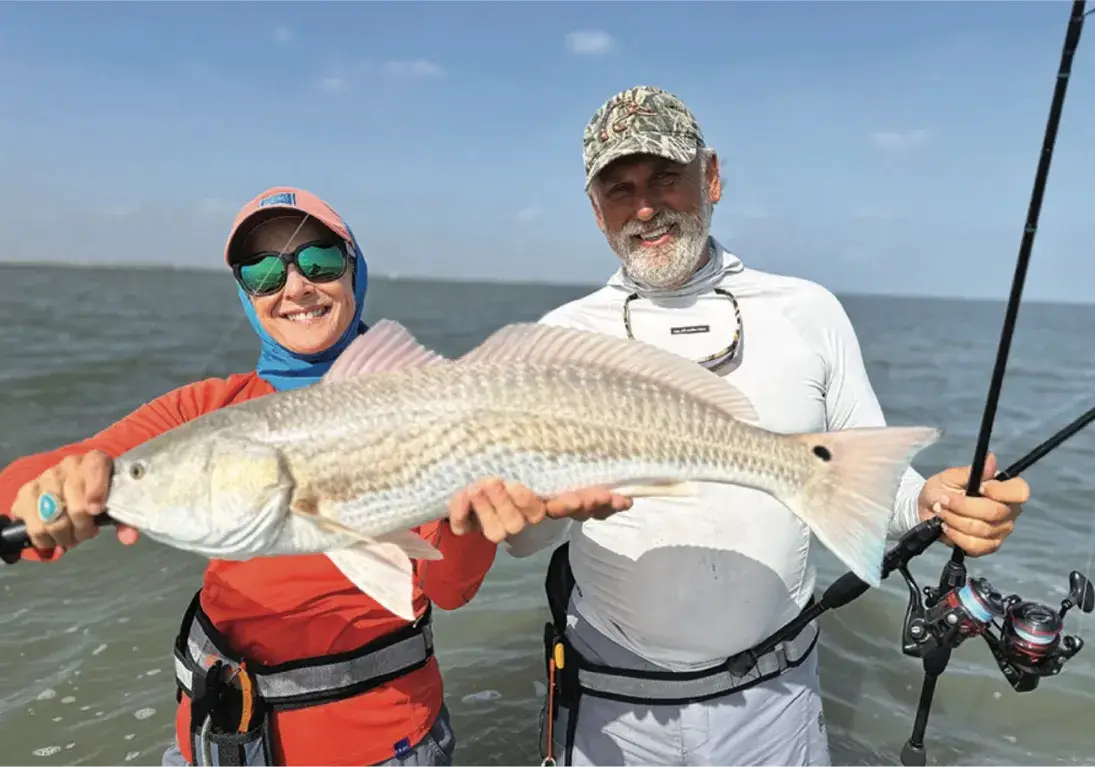 There have been some giant trout caught this year on Baffin Bay, so it looks like they have really been thriving after the devastating freeze two seasons ago. As prom- ised, TPWD will be going back to the 5 trout limit on September 1st. Even though the change of limits and sizes make keeping fish a little easier, conservation is so important, especially on Baffin Bay. Consider catch and release of the bigger fish so everyone can have the opportu- nity to feel the excitement of catch- ing a huge trout, especially the next generations of fishermen. More and more guides are giving incentives to catch and release and that's a great idea!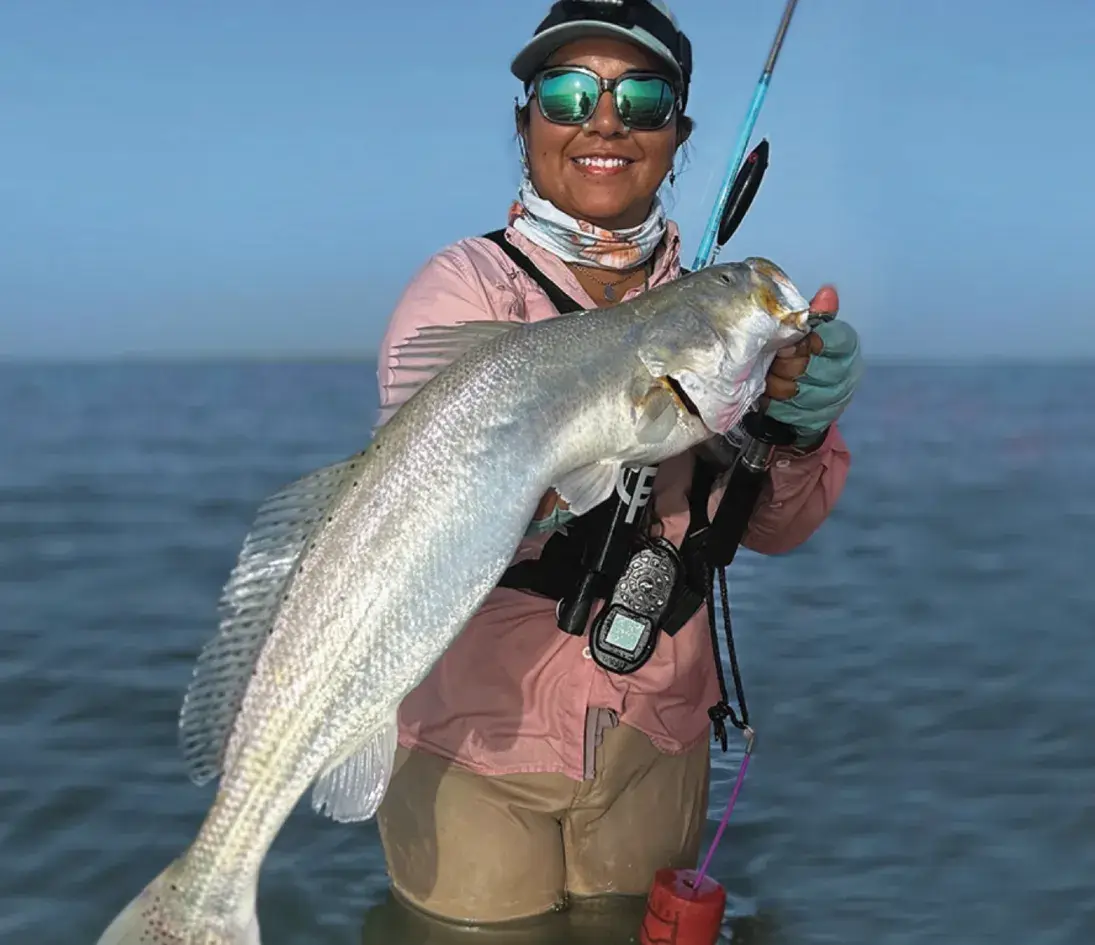 The trout are still spawning and feeding up hard in the fall. When the first cold fronts start to come through, the water temperatures will begin to finally drop. This lets the predators know that it's time to start eating to get ready for the upcoming winter. That's when the fishing really starts to heat up! Top waters, Corky's and plastics are all effective and fly fishing really becomes productive too! Fall fishing is just epic and shouldn't be missed!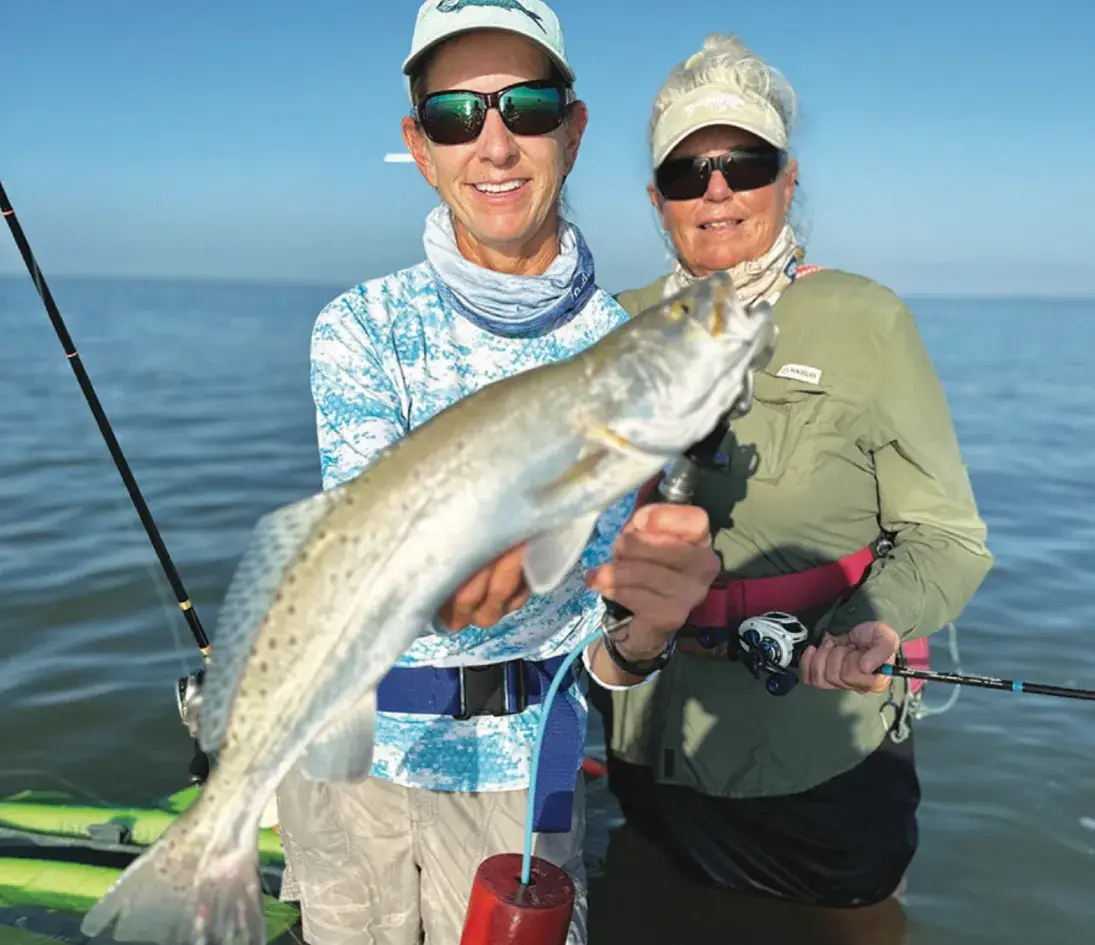 Toward the end of October, on the days that aren't fishable, take time to get ready for the next season of the fall, duck hunting. Decoys and blinds get cleaned up and bird bags are reloaded with necessities for the hunt. It is fun to practice blowing the duck call, it gets the hunting dogs all riled up and ready to go!
We are all so lucky to live in the Great State of Texas and be able to enjoy all these outdoor adventures!
As most of you know, I sold Baffin Bay Rod and Gun but I still guide for them. I'm also booking trips independently, so feel free to give me a call directly or check out my new website and full-service booking calendar at www.CaptainSally.com!
Of course, booking me through Baffin Bay Rod and Gun for all-inclusive trips including meals and lodging is still available. Call Tori at 361- 720-9394 to book it. If you need help with lodging choices besides BBR&G, there is info on my new website for that too!